NATURAL REFRIGERANTS REDUCE co2 EMISSIONS WITH 200.000 KG PER STORE
Cooling with natural refrigerants helps to meet Aldi's ambitious climate goals in a major expansion and renovation plan.
ALDI has long had the ambitious climate goal of reducing greenhouse gas emissions by 40 percent in 2021 compared to 2015, for example, by using refrigeration systems with the natural refrigerant CO2 in the chain's new stores and when renovating existing stores. Most recently with the new Aldi store on Rådhuspladsen in Aarhus, Denmark.
FACTS
End-user: ALDI Denmark
Segment: Food Retail
Contractor: SA-AL Køleteknik
Background: New climate-optimised store in densely populated area
Produkt: ValuePack in low noise enclosure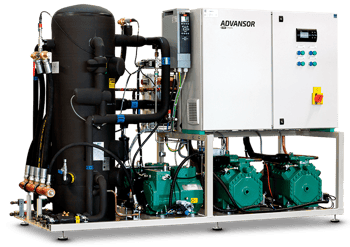 CHANGING FROM REFRIGERANT r404a TO R744
AMBITIOUS EXPANSION AND RENOVATION PLAN

ALDI uses environmentally-friendly refrigeration systems with CO2 in Denmark, Germany, Poland, the Netherlands, Spain, and France. In the grocery chain's ambitious expansion and renovation plan, the switch is primarily from refrigeration systems with refrigerant R404A, which has a major effect on global warming, to the natural refrigerant R744 (CO2).
At the same time, it is important to ALDI that legal requirements in relation to the surrounding environment are in order and that consideration is given to the neighbours. The new store on Rådhuspladsen in Aarhus is located in a densely populated area, and the cooling system is therefore installed in a cabinet with noise reduction, on the roof so that it doesn't take up space in the store, while not inconveniencing the neighbours.
SUSTAINABLE SOLUTIONS
VALUEPACK - A PERFECT MATCH


> Suppliers must contribute to meeting climate goals
> It must be possible to renovate stores within a short time period

> A large number of new stores are to be built, which places high demands on the
suppliers' quality, security of supply, and service
> The stores are often located in densely populated areas, and the technical
installations must not inconvenience neighbours.
co2 EMISSIONS REDUCED WITH 200.000 kg PER STORE
RESULT
CO2 as a refrigerant has a GWP (Global Warming Potential) of 1, where R404A has a GWP of almost 4,000. On average, a system contains around 40-50 kg of refrigerant, which is equivalent to a reduction in the CO2 footprint by as much as 200,000 kg per store.
In comparison, the CO2 footprint is reduced by 31,000 kg per store in the stores where ALDI has installed solar cells on the roof.
By placing the cooling system on the roof, it doesn't take up space in the store, and the cabinet with noise reduction ensures good neighbourhood conditions with a climate-optimised solution that complies with current legislation.
"We have chosen Advansor as the supplier of the refrigeration system, as CO2 as a refrigerant is 100% natural and thus contributes to significantly reducing CO2 emissions and achieving our ambitious climate goals. At the same time, we have only experienced good service and punctual delivery." Torben Olsen, Project Manager Energy and Refrigeration Expert, ALDI Danmark
"Once again, we have chosen Advansor as supplier of CO2 systems - super system and fantastic support in both sales and service. Especially in a case like this, it is extra important to work closely together in order for everything to succeed at the right time and of the right quality." Rune Høyer, Owner SA-AL Køleteknik