For retail and industrial applications
ValuePack II
splits in 3
HIGH CAPACITY - UP TO 136 KW NOMIMAL EFFECT
SMALL FOOT PRINT - CORE MODULE FITS A EURO PALLET
MODULAR TRANSCRITICAL
CO2 RACK

The ValuePack II is especially developed for larger supermarkets and light industrial applications like cold room storage, bakeries and slaughterhouses.

The ValuePack II compressor rack has been tested for more than a year in our own lab and in real life.

We have gained a lot of experience from building more than 2,000 ValuePacks, and from experience and our customers requests we have made the next generation of our popular ValuePack. Efficient, flexible and reliable, the new ValuePack II provides a number of cool benefits.
Download Fact Sheet
THE HIGH ENERGY EFFICIENCY PROVIDES SIGNIFICANT SAVINGS AND EVEN MORE IN WARM CLIMATE RESULTING IN A SHORT return on investment.
UP TO 15% SAVINGS IN WARM CLIMATE
Designed for Split in 3
HIGH CAPACITY – SMALL FOOTPRINT
EVEN THOUGH THE VALUEPACK II HAS A NOMINAL EFFECT OF UP TO 136 KW, THE CORE MODULE IS ONLY THE SIZE OF A EURO PALLET
• Delivered as a single unit, but designed for split in 3 on-site
• Largest part fits on a euro pallet = core module 1200 x 800 mm
• Possible to use elevators and go through small passages
• Avoid breaking down walls
• User manual describes how to split the rack
• Fitting kit with parts necessary to assemble it again
Download Fact Sheet
Fits a wide range of applications
The ValuePack II is specially developed for convenience stores, supermarkets and smaller industrial applications like cold room storage and commercial kitchens, but it has the power to fit a wide range of applications. It delivers up to 136 kW cooling capacity

Latest technology – higher efficiency
ValuePack II includes the latest technologies like Low Pressure Ejector and Cylinder unloading technology for higher efficiency.

Higher standards

The ValuePack II is always as standard delivered with oil separator, energy meter, frequency inverter and CO2 low level switch

Compact Design - fits a Euro Pallet
The core module of the ValuePack II fits a Euro pallet and makes handling of a bigger rack very easy
Short lead time
The ValuePack II can be delivered with lead time down to 5 weeks.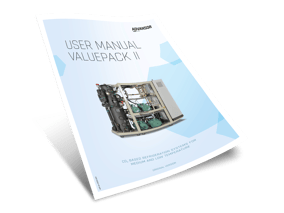 Step-by-step manual
The Valuepack II comes with an illustrated step-by-step manual. It makes it easy and more efficient to work with the rack. There is, among other things, a quick start guide, which enables start-up in just a few hours all inclusive.
Low part load for energy savings


This technology enables the suction pressure to be stable
over time and, in turn, allows for energy savings

• High capacity exploitation from 5-100%

• The cylinder unloading technology on the
MT1 compressor makes it possible to
operate from as low as 5% cooling capacity

• Sizing of MT1 and MT2 compressors in the
5 MT configurations optimises the
regulation, as it ensures a smooth transition
between compressor steps
video on the new Cylinder Unloading Technology
Standard equipment
5 MT configurations x 5 LT configurations (25 compressor configurations)
Cylinder Unloading Technology and PM motor technology on MT1
Frequency Inverter on LT1
Patented Receiver Design with Integrated Coil and Suction Accumulator
Oil Separator
Manometers on Manifold
Energy Meter
Controllers available
Danfoss
Carel
Wurm
Eckelmann*
*On request
Design pressures
High Pressure: 130 bar
Receiver Pressure: 60 bar
MT Suction Pressure: 52 bar
LT Suction Pressure: 30 bar
Options available
Low Pressure Ejector on MT
60 bar Suction Side
Heat Recovery Stage 1 and 2
Gas Cooler Bypass
Double Safety Valves on Switchover Valves
CO2 Level Transmitter
Insulated Hot Surfaces
80 Bar Receiver
Extra 130 l receiver
Emergency Cooling Unit with CO2
120 bar high pressure