The MiniBooster is one of our absolute bestsellers. Invented by Advansor, admired and copied by many, but never outmatched in quality and design. Not by others, at least...
We have gained a lot of experience from building more than 1,000 units of the existing MiniBooster. It's time to set a new standard. So, we did.
We took all the experience we've gained, added months of prototyping and testing in our new lab and simply raised the bar.
Better product – still MiniBooster but better
Easier process – shorter lead time than ever
With the new standard everything about the MiniBooster is ultra-compact: The selection, the size, the noise, the price, the delivery time and the time spend on start-up.
Meet the new standard!
MiniBooster sets new standards
The new and improved MiniBooster is more robust to dirt with added filters. We have implemented a suction line heat exchanger to further ensure safety and reduce the risk of liquid slugging. We have improved a lot of details, and 80% of all piping is redesigned.
"Standard" means "high standards" to us. That's why we added inverters on both medium and low temperature compressors and spend hours in lab making sure the system is extremely robust to vibrations. We have chosen a different R&D approach to bring vibrations to an ultra-low point.
We didn't settle for product improvements. We want to make it easier and faster to get CO2 refrigeration systems. We have designed an easy and efficient ordering process for you as customer.
Small size – big benefits
Even though it's the smallest real refrigeration system on the market, it has big benefits.
The MiniBooster
> fits a wide range of applications
> is reliable and efficient – also on cost
> is easy to order with our new selection tool
> is ready on stock or with a short lead time
> fits everywhere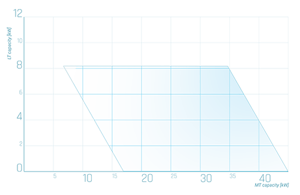 Wide range of applications
The MiniBooster is specially developed for convenience and discount store segments, but it has the power to fit a wide range of applications. It delivers up to 45 kW cooling capacity and offers a flexibility you won't find elsewhere.
Cost efficient
The MiniBooster is a cost effective, natural and energy efficient solution. When we add our new easy ordering process and standard MiniBoosters on stock, we are able to deliver more natural refrigeration systems – faster. This is a win-win-win – for our customers, the climate and Advansor. And it shows in the very competitive and compact price.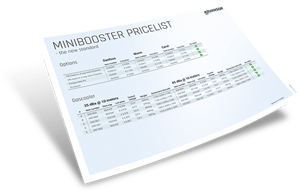 Easy to order
It's fast and easy to order the standard MiniBooster. Enjoy the fast track and skip the traditional quote process. The standard MiniBooster can be ordered in less than two minutes. You don't have to wait for a quote. The price is ready right away ­– in the tool or an easy-to-use pricelist.
Reliable and efficient
The MiniBooster is reliable, energy efficient and will deliver robust performance for many years.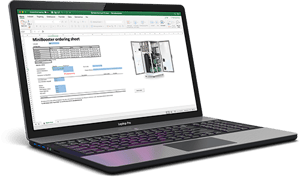 User-friendly selection tool
We have designed a user-friendly selection tool. With 27 different compressor configurations and three controller brands, you can mix and match between 81 variants. You get the standard MiniBooster perfectly fit for your needs even with recovery, enclosures, chiller modules for glycol brine and gas coolers.
Ready on stock
The MiniBooster is ready for you on stock. We have more than 20 high runners on stock with your preferred control system (Danfoss, Carel and Wurm) ready for fast shipment. Everything is pre-programmed, and you receive a plug and play solution.

Ultra-compact size
The MiniBooster is designed to fit in with its ultra-compact size. As the smallest refrigeration system on the market it only takes up the same floor space as one Euro-pallet. And it can be placed in a corner and used outdoor as it is or put in to an enclosure for lower noise level.
Short lead time
If you don't need the MiniBooster right away our normal lead time is still only 5 weeks.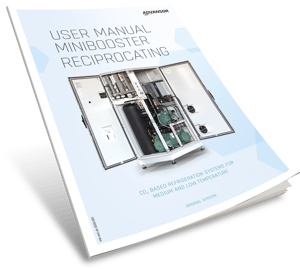 Step-by-step manual
The MiniBooster comes with a thorough and illustrated step-by-step manual. It makes it easy and more efficient to work with the rack. There is, among other things, a quick start guide, which enables start-up in just a few hours all incl.
Download price list
Simply fill in the form and you can download the prices for our MiniBooster including gas coolers and options.