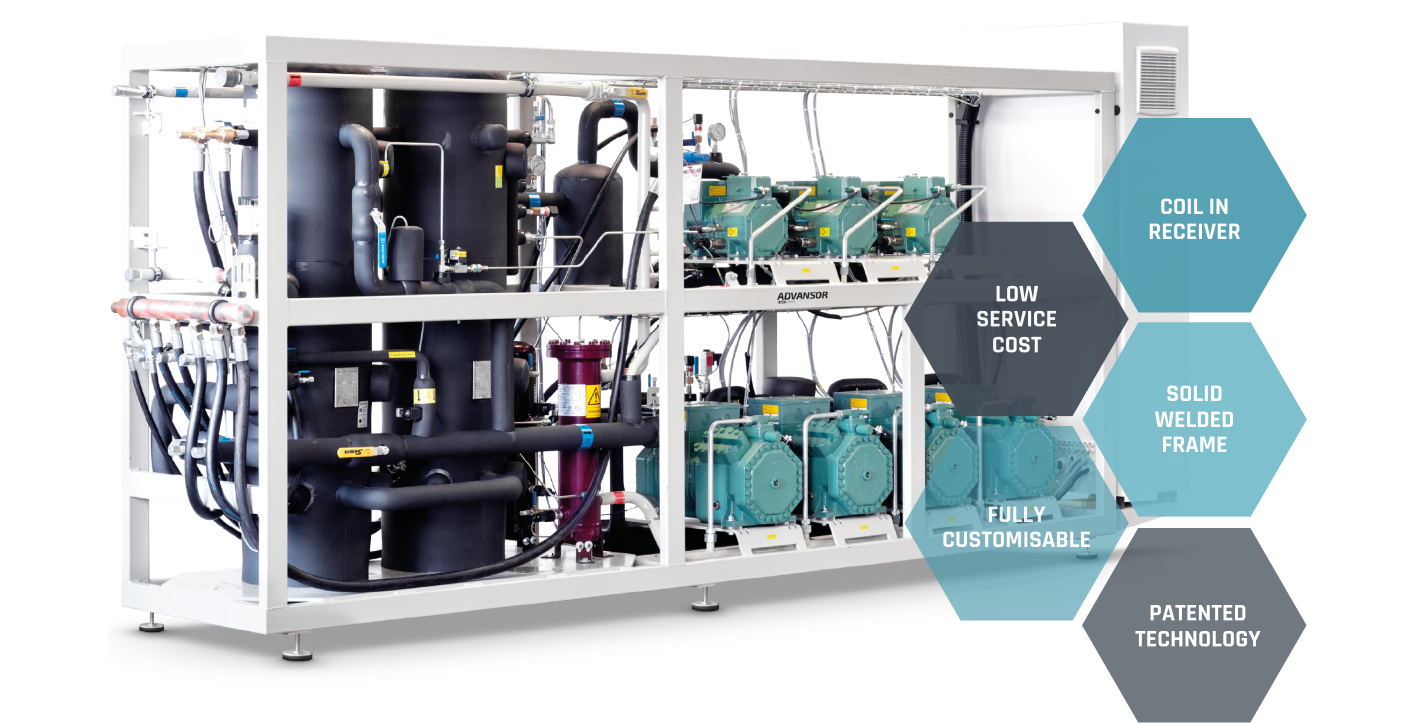 The original innovative Advansor design from which all other designs evolved. A robust, ultrahigh quality refrigeration system with the most elaborate scope of options and energy saving features. Fully customisable to meet demands of supermarket as well as industrial applications.
*All capacities are calculated at -8°C MT, -30°C LT and 35°C out of the gas cooler
STANDARD EQUIPMENT
LT Suction Accumulator
Patented Internal Heat Exchanger in Receiver
Hot Gas Dump
Liquid Injection
Filter Drier
CO2 Low Level Switch
Frequency Inverter on MT1
CONTROLLERS AVAILABLE
Danfoss
Wurm
Carel
Eckelmann
STANDARD DESIGN PRESSURES
High Pressure: 130 bar
Receiver Pressure: 80 bar
MT Suction Pressure: 52 bar
LT Suction Pressure: 30 bar
OPTIONS AVAILABLE
Advanced Heat Recovery
Permanent Magnet Motors
Ejector Technology
Enclosure for Low Noise and Outdoor Installation
CO2 Liquid Level Measurement
Gas Cooler Bypass
Double High Pressure and Gas Bypass Valves
Back-up Controller
CE-marked Pressure Relief Valves Manifold
Double Pressure Relief Valves on Changeover Valve
MT Suction Accumulator
60 Bar Suction Side
Energy Meter
Heat Pump Evaporator Function
Multiple Suction Groups
Subcooler
Liquid Subcooler
Hot Gas Defrost
Insulated Hot Surfaces
Chiller Module
Pump Module
Ultra Low Superheat Module
Cylinder Unloading Technology
Emergency Cooling Unit with CO2
120 bar high pressure
ISO 9001:2015 certified
Extensive factory tests to ensure fast commission
on both pressure and electrical installations
Documentation and manuals that meet legal
requirements.